TACUBO (Italian Restaurant in Ebisu, Tokyo)
"TACUBO", a highly rated Italian restaurant on the "Michelin Guide Tokyo." It is so popular that even getting reservation is hard. Its signature dish is "Firewood-grilled Tokachi TACUBO beef" using the sirloin of "N34" beef. Many fall for its meat chunk grilled using firewood in the open kiln set behind the counter. Today, we let Daisuke Takubo, the chef-owner of "TACUBO" and a fan of "N34", tell us about his dedication to cooking as well as the charm of "N34."
Profile of "TACUBO"
"TACUBO" is located in a residential area with little stream of people, about 7 minute walk away from both Ebisu Station and Daikanyama Station. The restaurant entrance is at the back, not easily visible from the street. It's like a secret restaurant that only those who knew would visit. As you enter, natural atmosphere and the scent of firewood welcome you. Surprisingly, there are only eight counter seats and two private rooms which can accommodate up to six people respectively.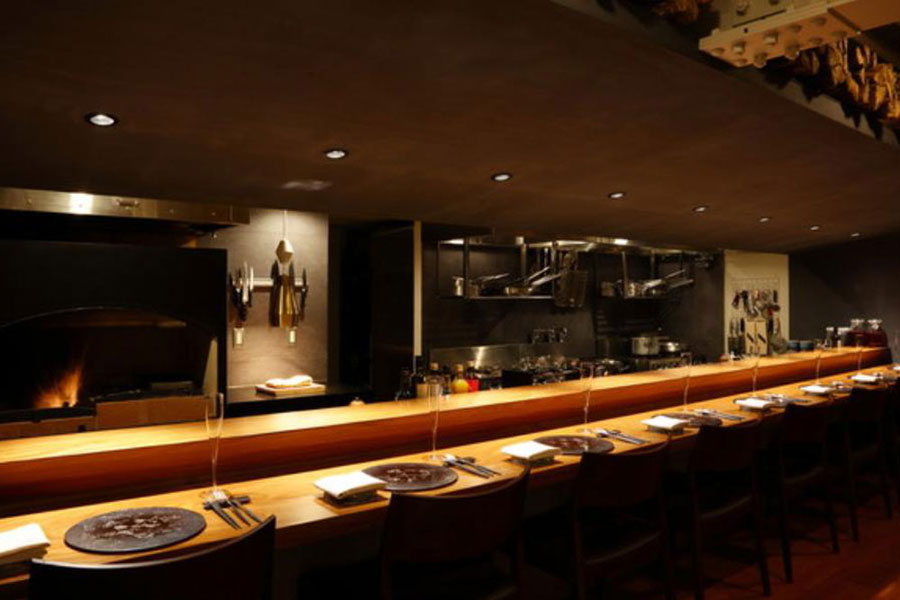 The chef's recommended course is the only menu. To the chef, "Cooking starts from the stage of purchasing food materials," and "TACUBO" considers maintaining good relationship with manufacturers important and only offers that single menu so that the chef is able to serve his dishes only in the best condition.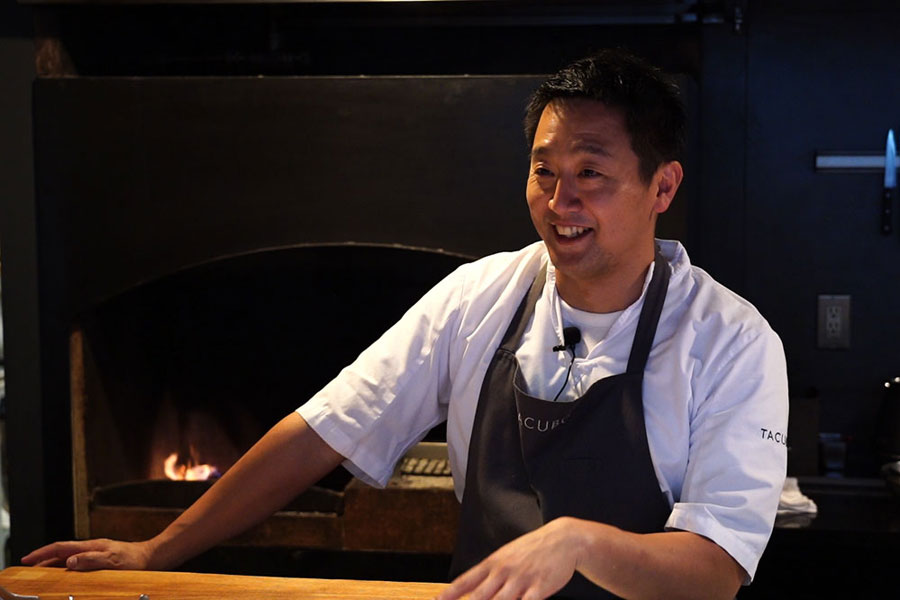 Mr. Daisuke Takubo, the chef and owner of "TACUBO", loved to watch cooking programs on TV and did simple cooking since he was a child. Growing up, he entered the Osaka Abeno Tsuji Cooking College. At the beginning, he wanted to be a chef of Japanese cuisine. However, he was stunned by an amazing taste of fresh tomatoes and boiled pasta when he cooked Pescatore during the Italian cooking lesson, and started to devote himself to the world of Italian cuisine.
Though he found a job at an Italian restaurant in Ehime after graduation, he wanted to learn more about cooking and hence came to Tokyo three years later. He kept on learning and training, and finally managed to open his own Italian restaurant "Ristorantino Barca" in Hiroo in 2006 when he was 30 years old. In 2010, it moved to Ebisu and changed its name to "Aria di Tacubo", and again in April 2016, it transferred to current location and changed its name to "TACUBO".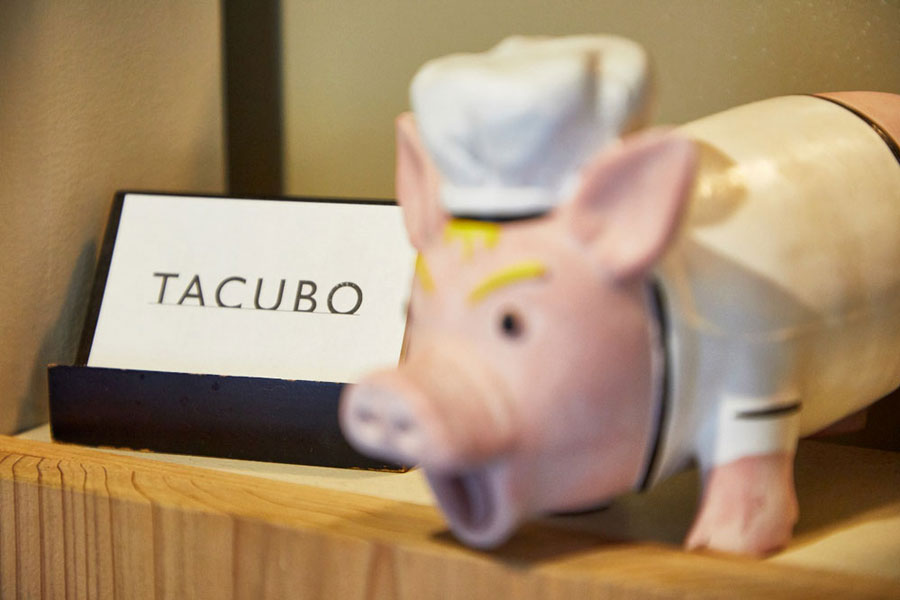 "I believe I'm good in seeking out a trend in the world. Thus, I've changed the style and concept of my restaurants from time to time. Being in my forties, I felt odd being in the restaurant opened in my thirties. Now I feel like I'm home in my third restaurant 'TACUBO'. That's why I expect this restaurant to continue operating for a long time."
This is what Chef Takubo, who has gained plenty experience as the owner and chef, told us. He finally managed to open his ideal and comfortable restaurant.
Firewood Grill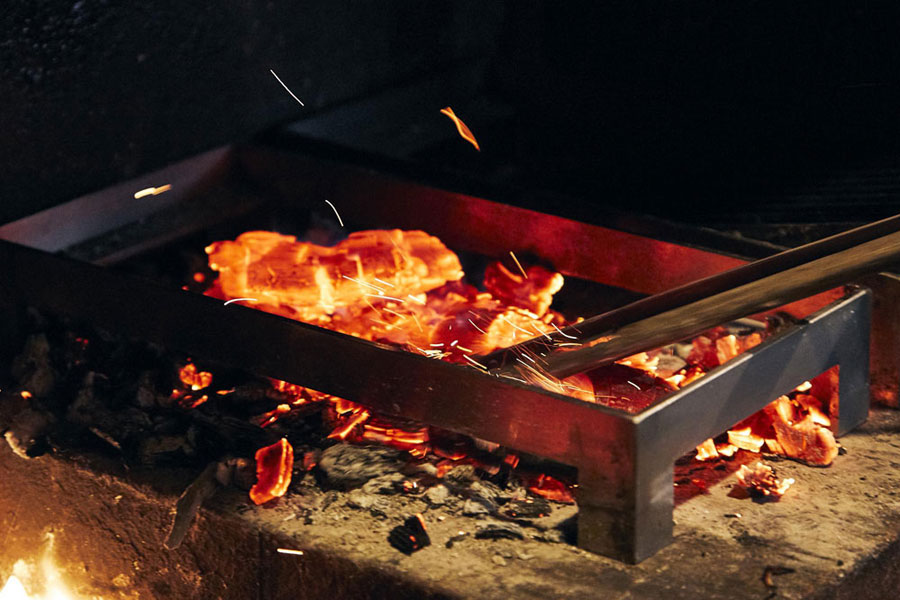 Firewood grill is a cooking method of heating with glowing ember of wood. Firewood burned in a front-open furnace emits tender and gentle heat. Here, oak tree woods of Kansai region are used as the firewood, as they burn well and have a mild smell.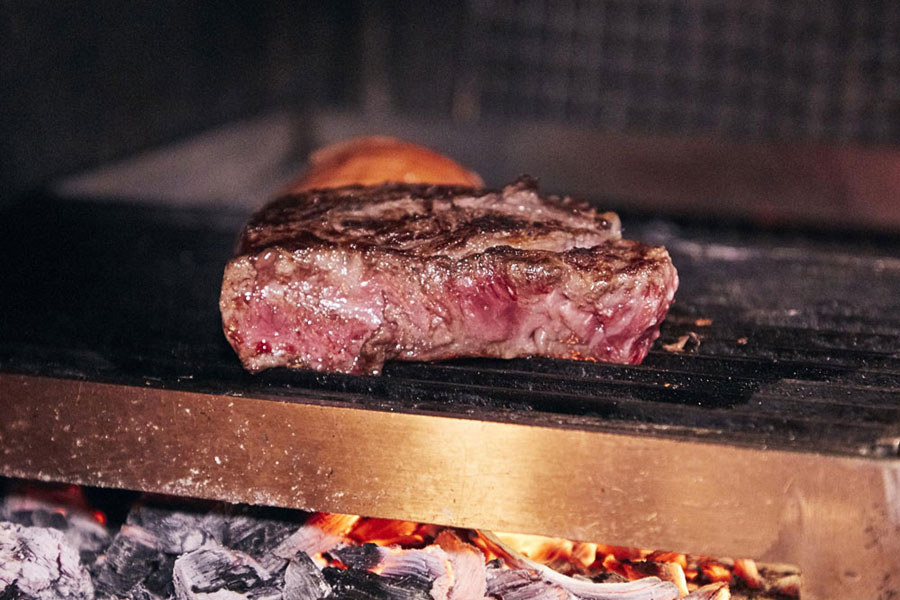 A grill is put over the glowing ember, and he grills a cold chunk of beef with strong heat, taking it out of a refrigerator right before cooking. He turns it every 15 to 20 seconds and grills for about 10 minutes. He frequently turns it so that no trace of the grill is left on the beef. The woods transfer their fragrant aroma to the beef and their moisture helps in grilling it into a soft and juicy chunk.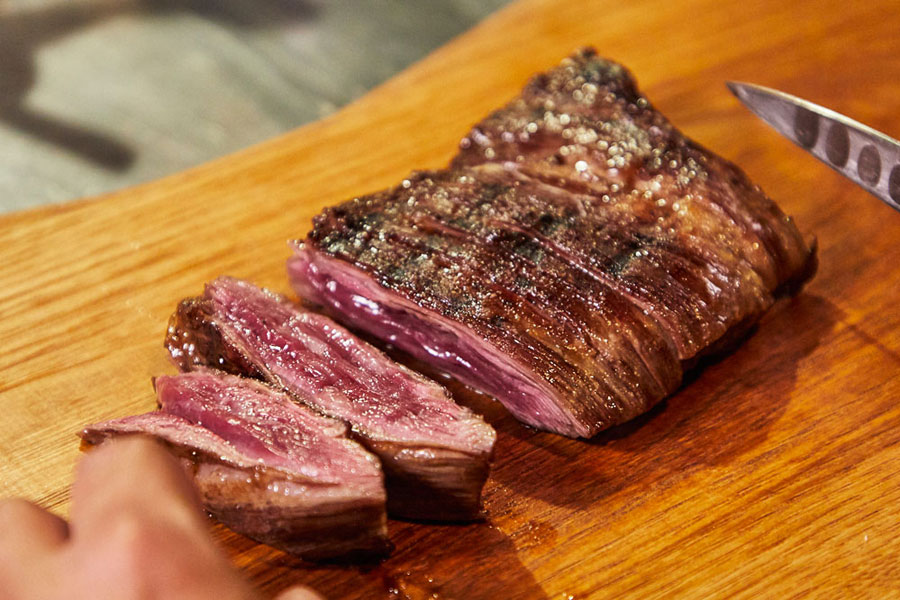 It was 2013 that he first came across firewood grill. It was by chance that he had a firewood-grilled meat in a restaurant in Tokyo.
"At that time, low heat cooking was in fashion and I was wondering whether I should follow the trend or go for charcoal grilling. In such circumstances, I was stunned by the taste of the firewood-grilled meat. The freshly grilled meat retained heat in its gravy and I felt as if I experienced the taste of fire."
This stunning impact leads to the generation of new cooking philosophy.
"Barbecue fascinates people, but based on the theory of cooking, it applies stress to meat and is not a good way of grilling. However, it tastes great. Why is it? Probably, it is because you can't resist the excitement of eating a freshly grilled meat right in front of you."
Chef Takubo feels strongly that there is no better method to grill a chunk of meat with strong heat such as barbecue's than firewood grill. Since then, he deepened this knowledge through observation and study in firewood grill restaurants.
"To be honest, I still keep on studying every day. Even when praised, I still feel I have a lot of things to learn," says Chef Takubo. He seemed to be speaking calmly, but we sensed a strong will from him.
Encounter with N34 beef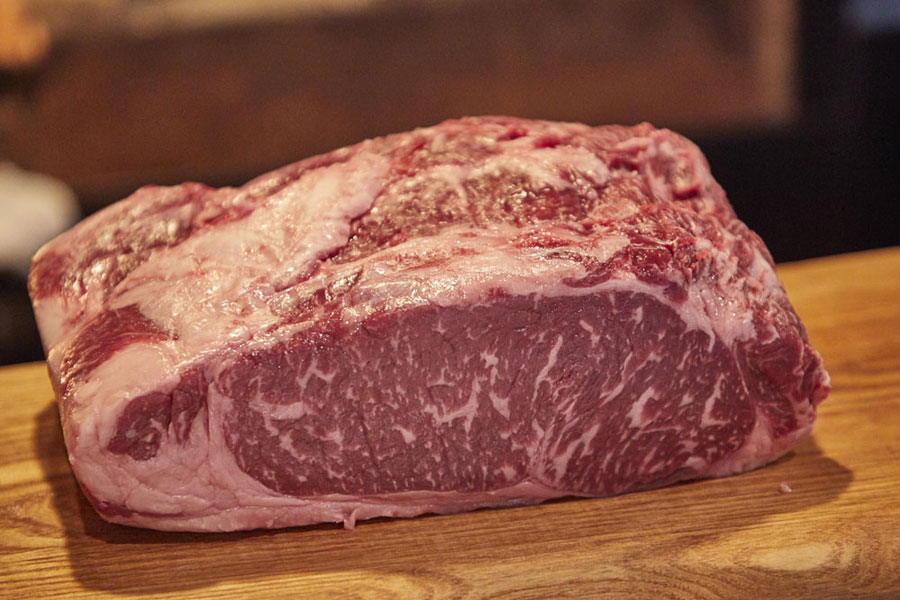 Chef Takubo's encounter with "N34" beef was under introduction by his acquaintance.
"I was told that I can choose a chunk of beef by seeing and checking the condition of its cattle age and marbling and it could also be customized to my taste. So, I asked my friend to introduce me to the manufacturer. I think it is a revolutionary service that customers can purchase only the beef they are content with."
Narrowing down your manufacturers, it would be possible to have a standardized flavor of beef to some extent. However, each cattle are different. Hence, it is hard to maintain the same level of quality.
"I'm pleased with not only the distribution system but also the aroma and juiciness of lean meat of 'N34'. You can deliver the taste you want to serve and also adjust the grill level to your preference. Without the materials that you need, you can't deliver your ideal dish no matter how hard you try. For example, you can't make a fatty beef of Japanese black cattle taste like a lean meat steak even if firewood-grilled. Cooking is only a small last part in a whole process."
About N34 sirloin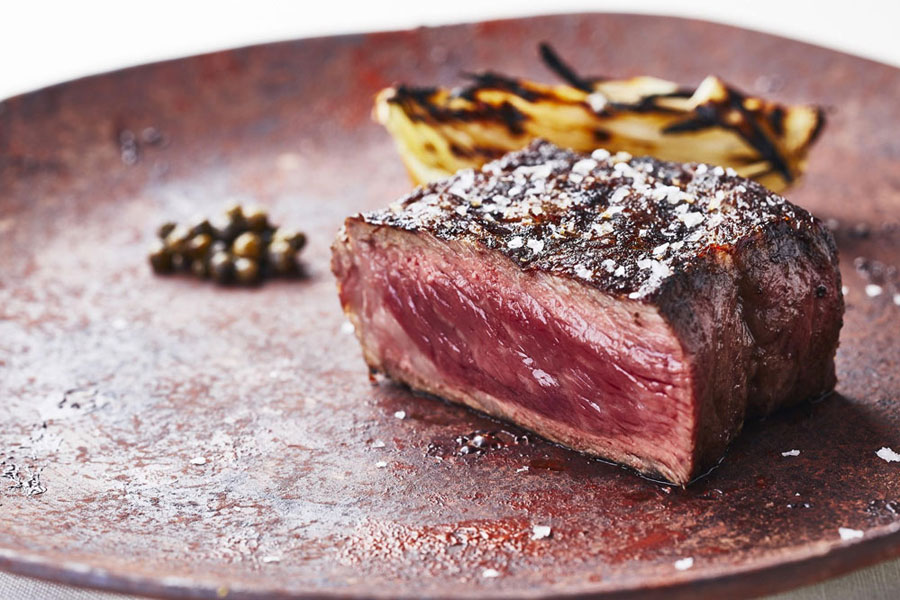 For "TACUBO" which only offers a full-course meal, the signature dish is so essential that it affects the evaluation of the restaurant.
The details of cooking "Firewood-grilled Tokachi TACUBO beef" are as explained above. After grilling, seasoned with British-made, coarse crystallized Maldon salt flakes with a strong taste, it is served hot right away. The cooking method is pretty simple.
The beef is grilled till its surface is browned and crispy as if deep-fried. The steak is juicy inside. When you cut the steak, the gravy is still be kept in the meat, but once taking a bite, the gravy floods into your mouth together with rich flavor. Although two different contrasting textures are the key to its deliciousness, the rich flavor of lean meat and the natural taste of the beef itself are the most attractive points. You'll be satisfied with the experience of having the steak.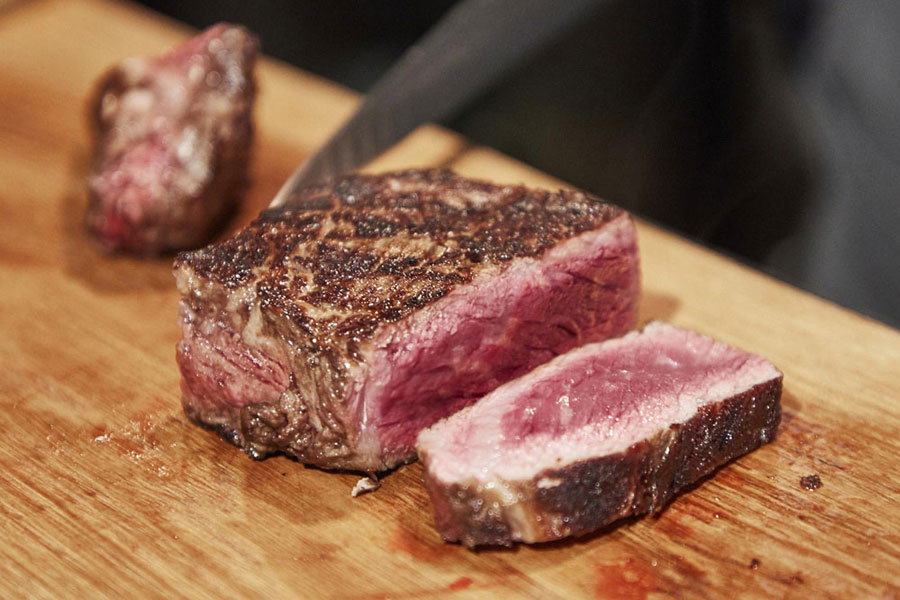 "Many of our guests are in their forties and fifties and tell me it is hard for them to eat A4 and A5 ranked sirloin steaks of Japanese black cattle anymore'. However, when eating 'N34' beef, they say 'This sirloin steak tastes light. I can eat this.' Probably, it is as light as rump steak of a general Japanese black cattle beef. 'N34' beef, with the natural taste of meat itself, seems to be well accepted by many people of all ages," says Chef Takubo with a smile on his face. He seems to be confident with the signature dish.
For your information, dishes used are the Japanese pottery of Arita-yaki and Kamachi Toho. Since the concept of "TACUBO" is "nature", they are semi-custom made to have them paint with natural designs and colors.
About skirt steak of N34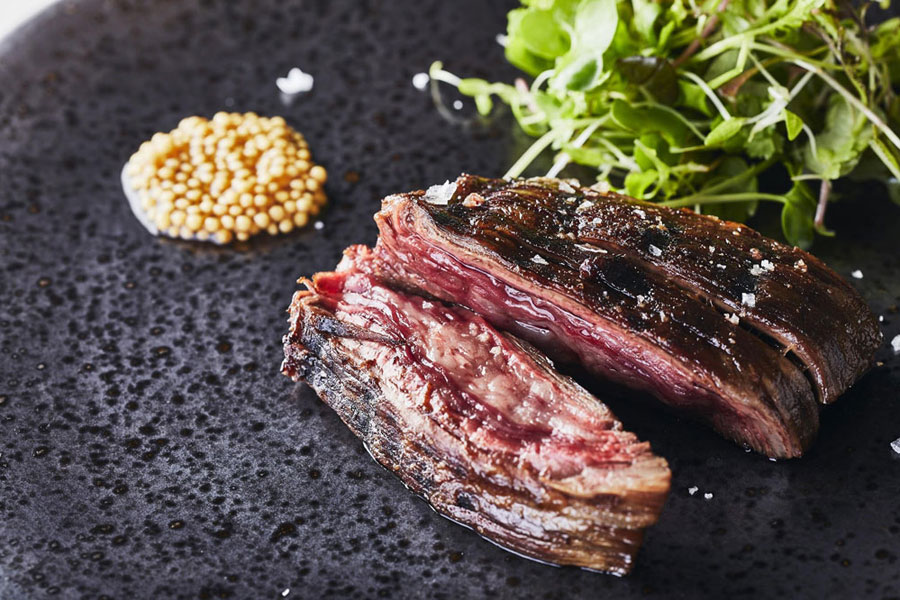 Firewood-grilled skirt steak of "N34" is another signature dish. Usually, the sirloin steak is served. However, when requested or in the case of regular customer, the skirt steak can be served. As its muscle fibers are firm, it requires more mastication and, thus, more chewy than the sirloin.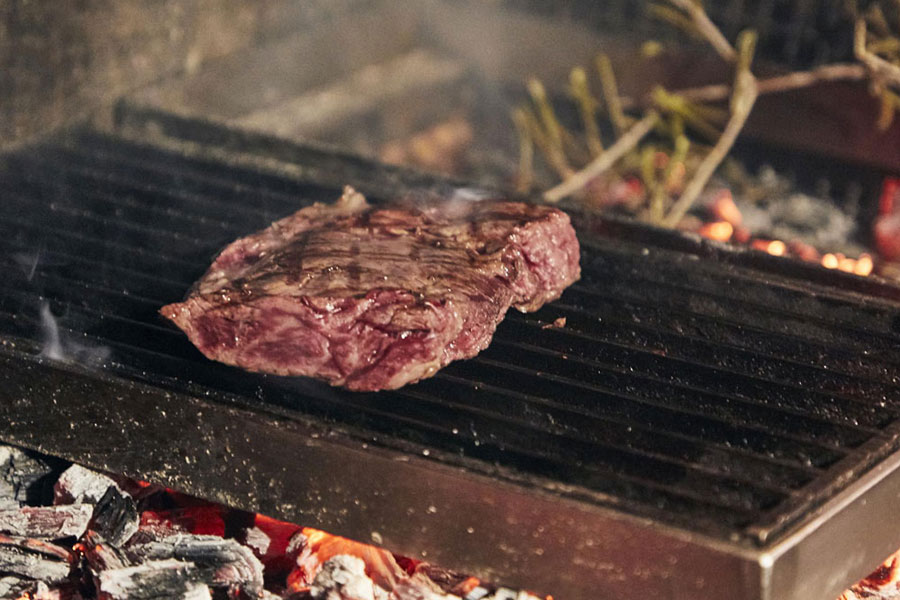 Also, there is a difference in the way of grilling. When grilling the skirt steak, branches of olive trees collected in Okayama are used as fuel with glowing ember of oak tree woods. By this way, the scent of olive is given to the skirt steak. Chef Takubo says that grape vines are also to be used in the future.
About our spaghetti Bolognese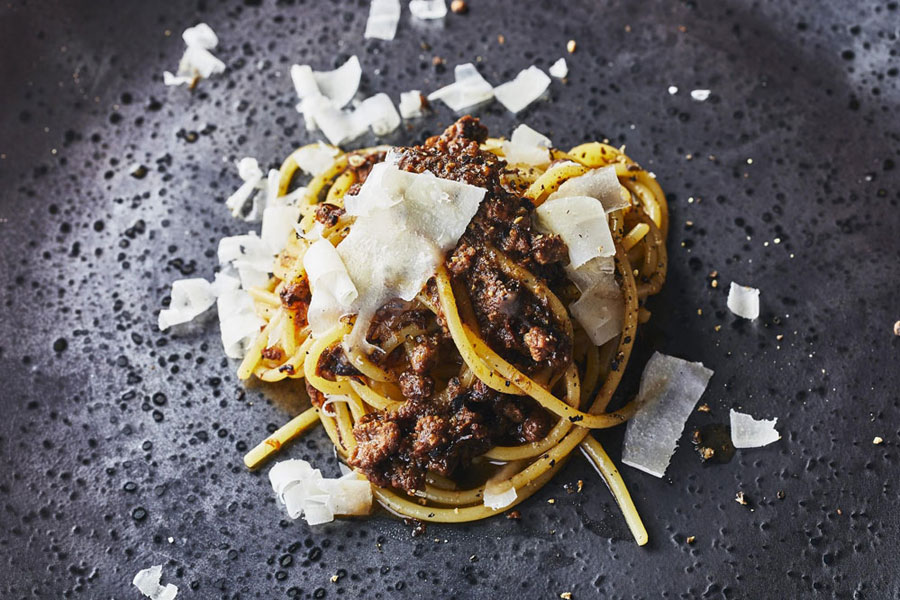 For the signature dish of "Firewood-grilled Tokachi TACUBO beef", only the especially tasty part of the sirloin is used. Thus, there will be waste meat naturally. To utilize it effectively, "Tokachi TACUBO beef Spaghetti Bolognese" was developed.

As opposed to the simple cooking method of firewood grill, spaghetti Bolognese requires time and effort to make. It takes about a week to make the sauce.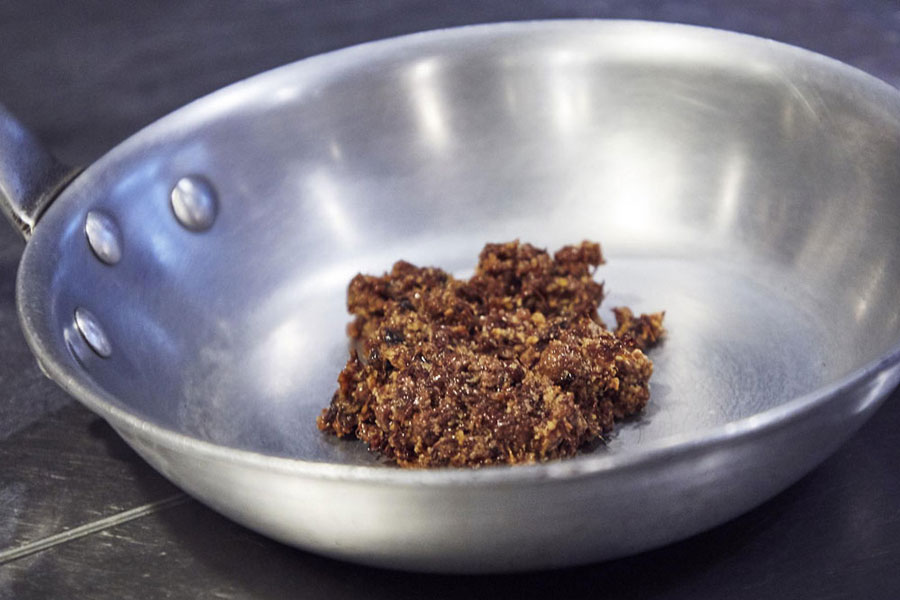 Firstly, the waste meat is divided into two parts, fatty or sinewy part and lean meat part. Then, the fatty or sinewy part is boiled with red wine till it falls apart, while the lean meat is coarsely ground to keep its flavor. Taking their respective advantages, the rich flavor of Bolognese sauce is made. Above all, the amount of meat used in our spaghetti Bolognese is more than double a general one.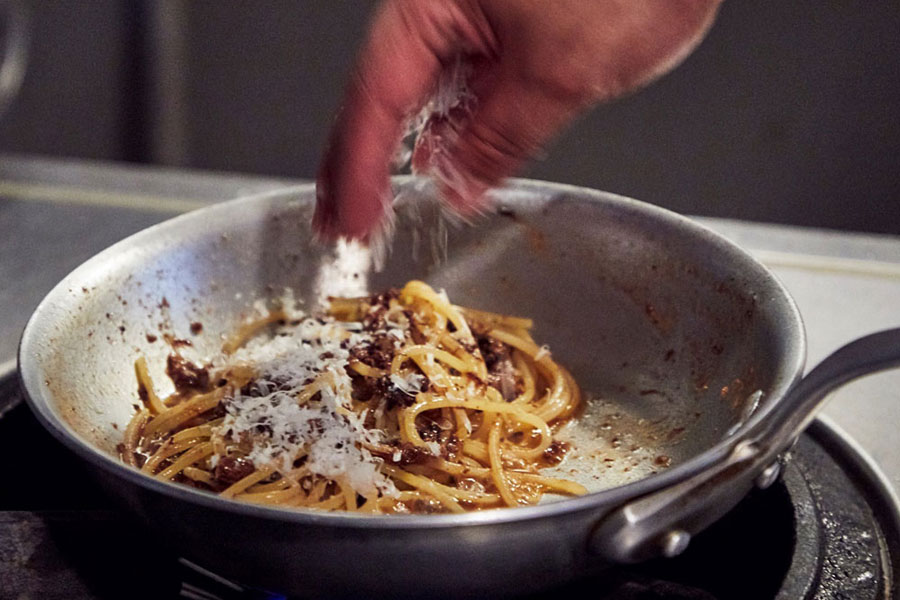 It is stirred with the smooth Italian classic spaghetti (1.7mm) of Barilla and, to give a special touch, shredded Grana Padano cheese, which requires relatively less aging period, is sprinkled.
"Our spaghetti Bolognese is special because that much of beef is used. In that sense, it can be said 'TACUBO' special," says Chef Takubo. Just for your information, "Tokachi TACUBO beef Spaghetti Bolognese" can be served after the main dish upon your request in case "you still have room it". The volume of food can be adjusted depending on your appetite.
Wines that goes well with N34 beef

(The wines in the above photo from left)."Vino Nobile di Montepulciano" (Italy)."BAROLO RISERVA VICNA VILLERO" (Italy)."GIFFARRO" (Italy)."MODRI (PINOT NOIR MOVIA)" (Slovenia).NYMPHA" (Italy)
"TACUBO" also puts effort into wines. Many of them are Italian or French wine, but any wine that Naoki Matsumoto, the sommelier, thinks "good" is collected without adherence to country of origin or grape variety.
"There is an idea that 'Cooking starts from the stage of purchasing materials' in 'TACUBO' and we only purchase wines that are produced neatly from farming to fermentation. Thus, many of our vendors are small wineries run on a family basis, not the ones commercially large. Regarding our importing agencies, we deal with small but excellent ones which know and can control conditions of their wines in their warehouse," says Mr. Matsumoto, the sommelier.
Like Chef Takubo, the chef, does, Mr. Matsumoto visits wineries and cherishes the relations with manufacturers. In the summer of 2018, he visited as far as Slovenia.
Such Italian red wines as "Vino Nobile di Montepulciano" and "BAROLO RISERVA VICNA VILLERO" with gentle taste matches with the sirloin of "N34" beef, accentuating the flavor of the beef clearly. On the other hand, such red wines as "GIFFARRO" (Italy) and "MODRI (PINOT NOIR MOVIA" (Slovenia), whose unique flavors linger or which holds complex flavors of spices, matches with the skirt steak of "N34" beef. For the spaghetti Bolognese, the Italian red wine of "NYMPHA", which has a bit of thickness as if it is simmered, is recommended.
Daisuke TakuboThe owner-chef of Italian restaurant "TACUBO" in Ebisu, Tokyo. Born in 1976 in Ehime prefecture. Rated one star on the "Michelin Guide Tokyo" in two consecutive years.

Naoki MatsumotoBorn in 1992 in Oita prefecture. Came up to Tokyo when he was 19 years old and got interested in wine. Qualified as a sommelier when he was 21.

TACUBO1F Rangs Daikanyama, 2-13-16 Ebisu-nishi, Shibuya-ku, Tokyo, 150-0021
Tel: 02-6455-3822

How to request N34A few full-course meals are available.
Lunch, dinner prices: 10,500 Yen or more.
Private room: 13,500 Yen or more.
"Firewood-grilled Tokachi TACUBO beef" using the sirloin of "N34" beef is offered at 13,500 Yen as a full-course meal. The sirloin steak can be changed to the skirt steak. "Tokachi TACUBO Beef Spaghetti Bolognese" can be served upon request after the main dish.